Friends of Ultimate Adornment
Please visit the friends of Ultimate Adornment and Collectibles at the following sites. You'll be glad you did.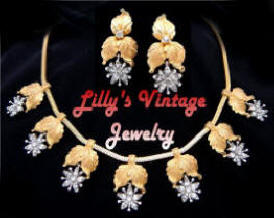 Lilly's Vintage Costume Jewelry
Warning ~ Vintage Costume Jewelry can become addicting! Come visit to browse and shop for gorgeous marked and unmarked pieces from the past! All are welcome!
We hope you enjoy your visit to our site. Please feel free to contact us (using our 'Contact Us' form or email us using the link at the bottom of the page) with any questions or comments you may have. Your "Ultimate" satisfaction is our goal!
Melissa
Ultimate Adornment & Collectibles
512-909-2768